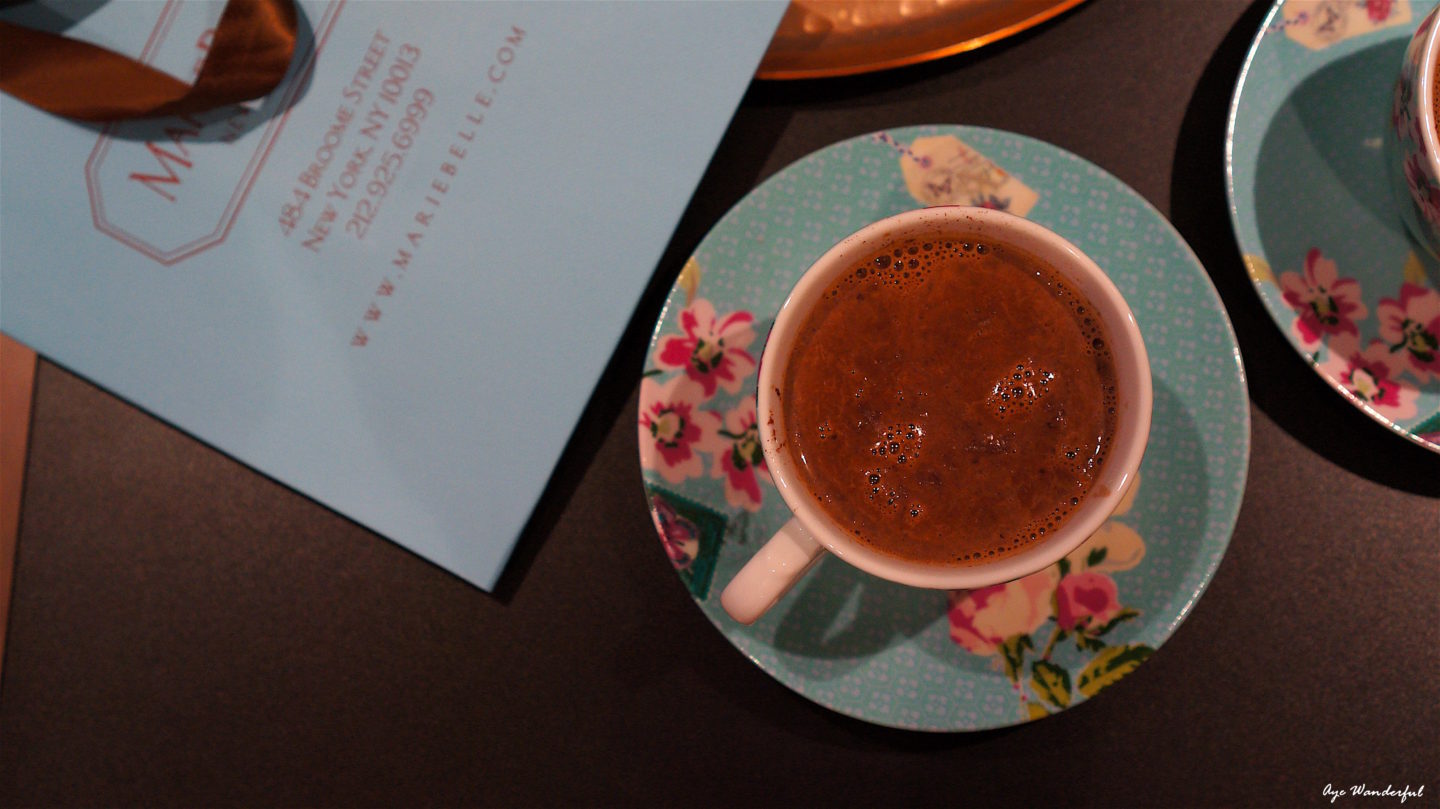 A few days ago, I was talking to a friend about my last New York trip, and this wonderful cacao bar that I discovered then – Mariebelle!
Located in Soho, Mariebelle is a Parisian style luxury chocolate boutique. The blue coloured walls and the crystal chandeliers offer a gorgeous backdrop to show off the artisanal treats prepared using single-origin chocolate and enhanced with exotic flavours. There was a huge range of products but their hand-made ganaches looked most incredible and one must really see them to truly appreciate their beauty and the hard work involved.
I could gaze on and on and then rave on and on about the shop but the real reason I was there was for the hot chocolate. So I headed to the rear of the boutique to the Mariebelle Cacao Bar. This is an elegant little salon-style cafe, ornate and opulent with its gold trimmings – very European. I was quickly seated and then had the difficult task of choosing which hot chocolate I wanted, by no means an easy task. Have a look at the menu to know what I mean by that.
Between my partner and I, we ordered the Aztec and the Spicy hot chocolate and let me just say folks – it was like liquid hug in a cup 😉
There was no way I was leaving without buying one of those "Spicy" hot chocolate boxes. I deemed it an utmost necessity for the cold wintry nights back in London. I have already finished the box which I first bought and now I am on my second, courtesy a friend who lives in New York.
The box mentions two ways for making hot chocolate:
American style – 2 parts boiling milk + 1 part chocolate
European style – 1 part boiling water + 1 part chocolate
My personal favourite is the American style hot chocolate. The European style tastes very watered down, a bit flat to me. The milky hot chocolate, on the other hand, is just the right amount of sweet and bitter and spicy. Lovin' it!
How about you? How do you like your hot chocolate?