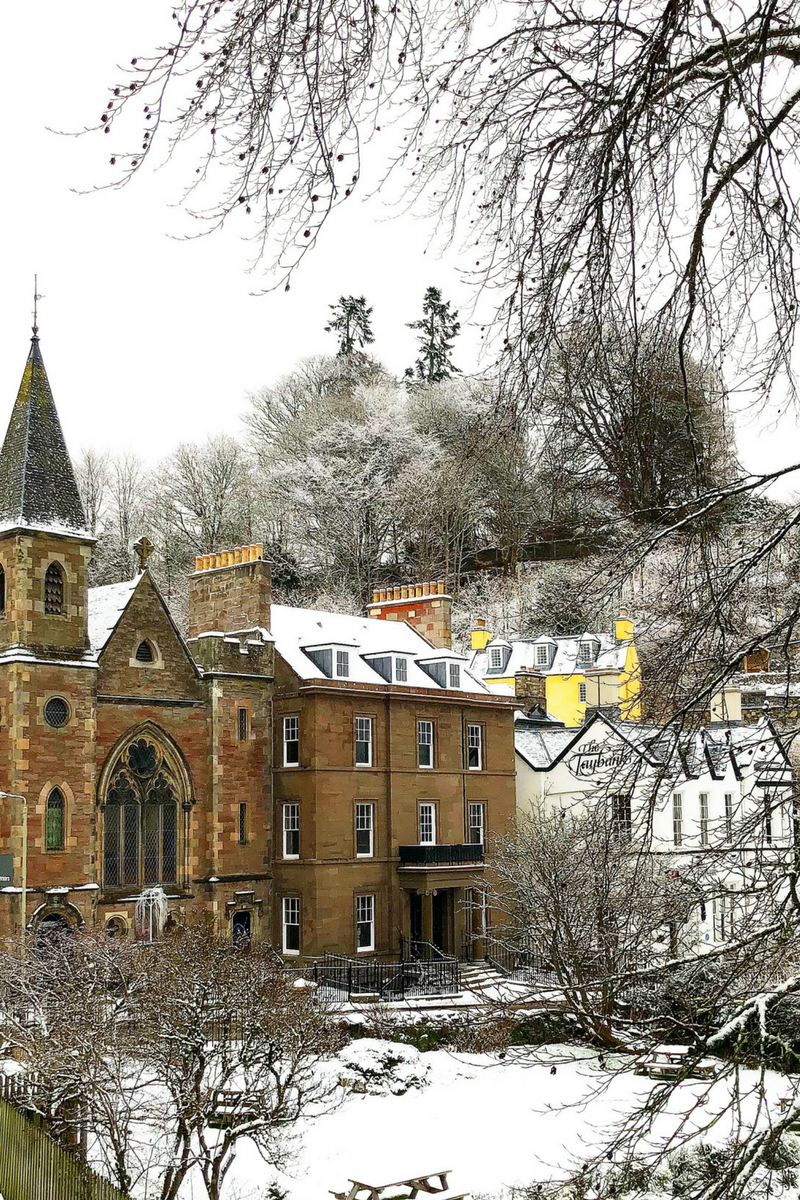 Scottish weather is unpredictable and if you're lucky, you will be able to see all four seasons in one day 😉 The best packing advice is to pack for all the seasons, right? 😀 I have recently returned from a fantastic road trip to Scotland and have the perfect tips for what to wear and pack for Scotland in December.

I think Scotland has a very casual and outdoorsy vibe. You may pack some smart clothes for evenings in cities like Edinburgh or Glasgow. However, I generally feel very cold and tend to be hidden under layers and layers of winter wear. So, I don't feel the need to pack very trendy clothes, particularly if there is a luggage constraint.
Here's the Winter Wear Essentials that I packed for Scotland:
Tank top/Thermal inner wear
Ace the base. It's a good idea to wear a tank top or even better a thermal inner top as the base layer. It not only adds to the warmth and comfort but also protects your wool jumpers from odour/sweat by acting as a layer between them and the skin.
I absolutely love these Uniqlo HEATTECH crew neck t-shirts. Soft, thin, inexpensive and affordable, they are great as a base. I bought them in black and white colours and their design is such that I can wear them on their own too.
I also bought the Uniqlo HEATTECH leggings in black. They are quite sheer and thin and I can easily wear them underneath jeans.
Tops
I prefer buying natural Merino wool jumpers for winters because they are lightweight, easy to pack and keep me quite warm. They can be used with or without layering and are not just limited to a winter holiday destination wear. I can easily wear them at my workplace paired with jeans/trousers or skirts.
Fleece tops are also a great idea as a mid-layer. They are sleek and don't add excess weight or bulk. They are more insulated and hence warmer as compared to wool jumpers and will be more suitable if you are planning on outdoor activities like hiking, etc.
Jacket
Again the jacket needed may be different depending on the type of holiday. For a sightseeing holiday in Scotland like I did, I found this Uniqlo down jacket perfect. It's super warm, very comfortable and shielded me from the rain, wind as well the snow.
Gloves, Hats and Scarves
I like sleek gloves which are not chunky. A pair of leather gloves with a thin inner lining works quite well for sightseeing type of holidays. I also find these mittens very cute and you can take the top off to use the fingers freely.
My jacket had a thick hoodie which was very useful in completely blocking the cold wind when we were out in the snow. I also carried a woollen bobble hat to mix things up a bit. It came quite handy while walking around in the city without blocking my peripheral view which the hoodie would do. I mean, I was there to look at those classic Edinburgh facades after all 😉
I carried a soft warm scarf with me as well. I didn't necessarily need to wrap it around my neck under the jacket, that would have been too stuffy. But it's useful to have it in the backpack/handbag for just in case scenarios. I definitely needed it in the car where I didn't want to sit uncomfortably wearing a bulky jacket all the way.
Shoes
​I knew there'd be a lot of walking on the cobbled streets of Edinburgh (I clocked 15000 steps that day). I wore a pair of leather boots that were comfortable and had a good grip so I wouldn't slip on the snow. They even had a fleece inner lining for extra warmth. Note: You can use a Waterproof spray to make your shoe water-resistant.​
Leg Warmers
Leg warmers are thick footless socks meant to keep the lower legs warm. I bought a pack of three from Amazon and found them to be quite useful. Also, they look very cute paired with the leather boots 😀
Now that we have the clothing sorted, let's talk about some other essentials. Winter sun and the cold wind can be harsh on the skin. It's best to moisturise face, body and lips well and wear a good SPF. Also, I carried a pair of sunglasses as well as an umbrella because the weather in Scotland can be quite unpredictable.
I hope you found my packing guide for Scotland in winter useful. However, please note that this is not just limited to travelling to Scotland. You will find these tips helpful while packing for any winter getaway.
Here's a handy packing checklist that you can download and print for your next winter travel adventure! To access more cool and useful resources like this, click here.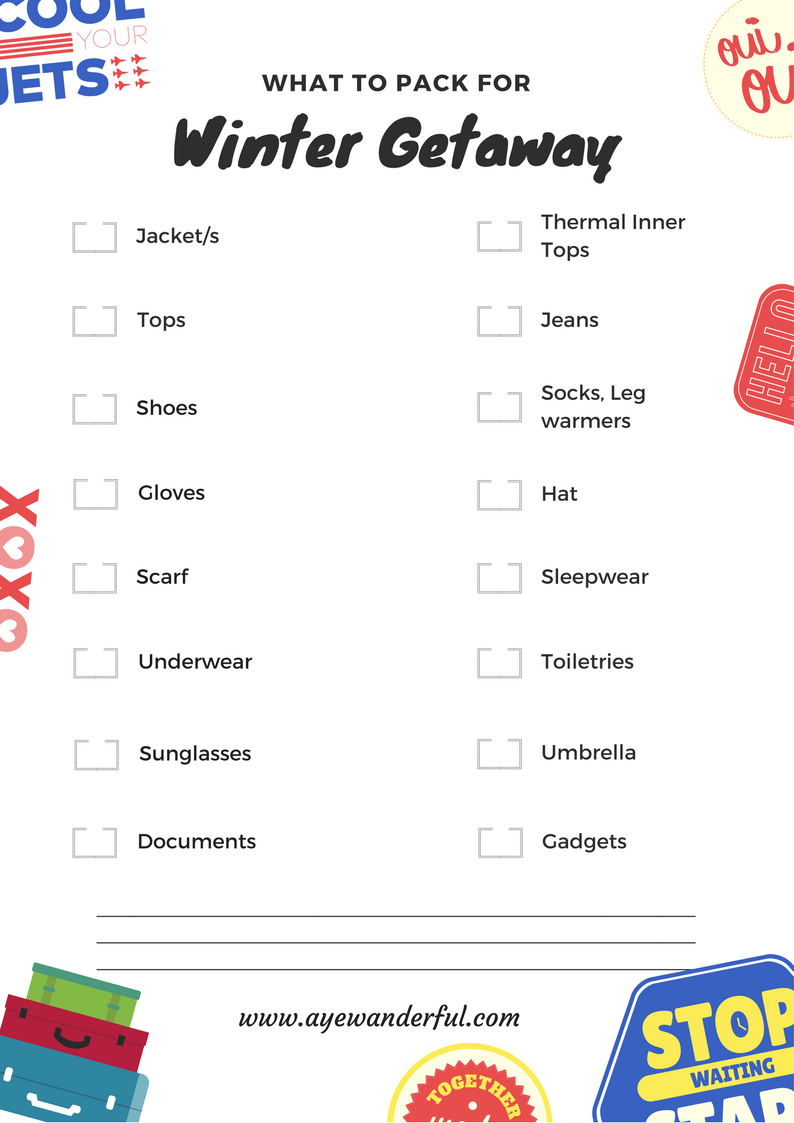 Would you like to add anything else to this Winter Getaway Packing Guide? I'd love to know!
If you liked this post, please don't forget to share it on Facebook/Twitter/Pinterest 🙂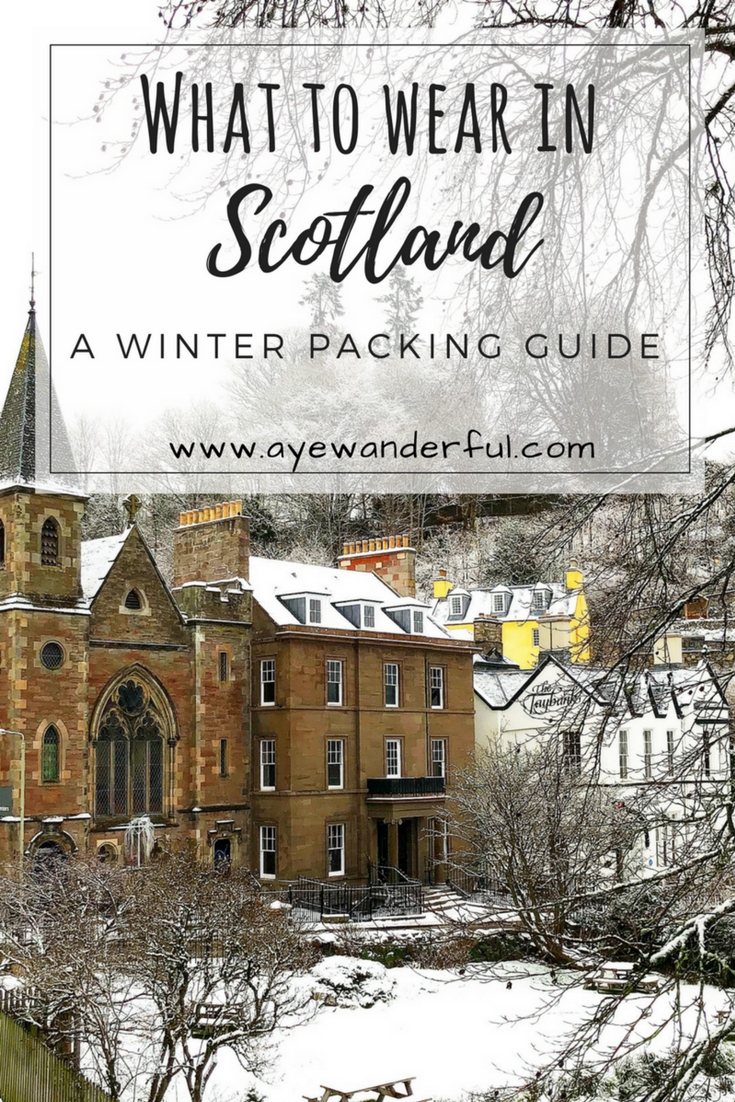 Cheers,
Ameeta xx
Disclaimer – This post contains affiliate links. If you click on one of these links and make a purchase, I may earn a small commission from the website, at no additional cost to you.