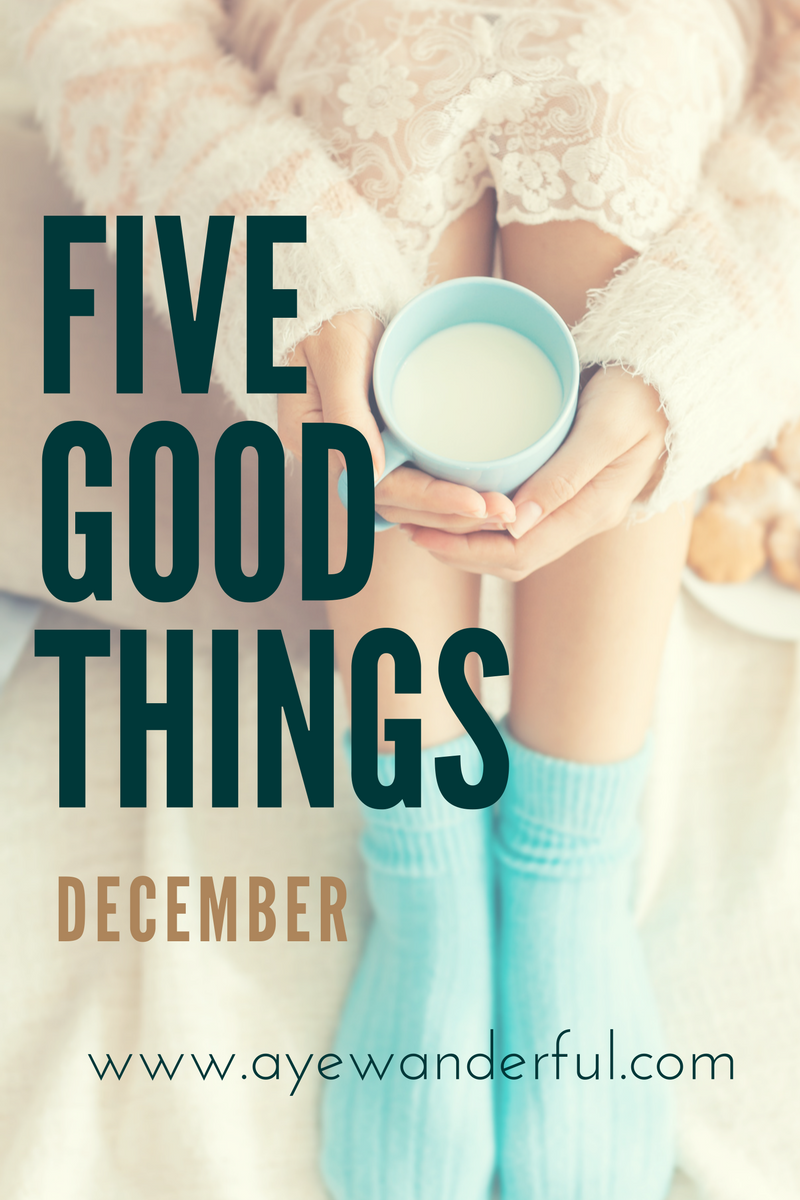 And just like that, 2017 is gone and 2018 is here! It's time for the final edition of my Five Good Things series – the December version.
1. Sometimes being busy is good, no?
December went in a flash! So many things happened – the good, the bad and the ugly. Keeping in the spirit of good vibes, we will only talk about the good things 😀 I was extr-e-e-e-mely busy at work, the kind that makes you feel you need a break. Social commitments meant late nights and a general lack of sleep but they also meant spending time with close friends, laughter-filled conversations and being surrounded by very special people. I can get along with this kind of busy 🙂
2. Secret Santa
December brings with it the festive cheer and while I don't celebrate Christmas in the traditional way, I love to gather with close friends, have a nice meal and play Secret Santa. In my Secret Santa Wishlist this year, I had mentioned the book The Life-Changing Magic of Not Giving a F**k and my friend thought it'd be funny to gift me a Swear Word Colouring Book instead 😉 I think this is a way better gift, all I need now is some colouring pencils! Here's looking forward to a stress-free 2018 😀
3. Scotland Road Trip
We took a road trip with our friends visiting from India to Scotland during Christmas and it was epic!! Travelling on Christmas day meant lesser traffic on the road. However, it also brought the challenges of shops & restaurants being closed and planning the journey keeping in mind where we'd have access to the services. Needless to say, we managed and it is completely doable. From motorways to city streets, from mountain passes to coastal routes – our road trip to Scotland was the best way to finish our 2017 travels.
Have you read my 2017 Travel Round-Up yet?
4. Bird's-Eye View of Edinburgh
Our first stop in Scotland was the city of Edinburgh. There was a lovely Christmas Market at East Princes St Gardens right in the heart of the city with stalls selling food and drinks as well as art and crafts. There were also many rides making it a great place for the entire family to have some fun. Speaking of rides, the best one had to be the Star Flyer. Imagine being swirled around at about 60m height in freezing weather (-3°C)… yes!!! It was the most exhilarating way to get a 360 degrees bird's-eye view of the city.
5. Blog Updates
I must admit that I am going through a bit of a writer's block. Possibly the reason why this post is happening while we are way into 2018. I hope I will soon recover and write some content on my Scotland road trip while it's still fresh in my mind. Fingers crossed 😉 Looking back, a few good things about my blog that happened in 2017 are that my posts have started performing very well in Google Search results, page views tripled as compared to 2016 and I wrote my first sponsored post (and actually made some money from the blog 😉 ).
I hope you had a great 2017 and I wish for you the best of 2018. Happy New Year folks!
Cheers,
Ameeta xx
SaveSave
SaveSave