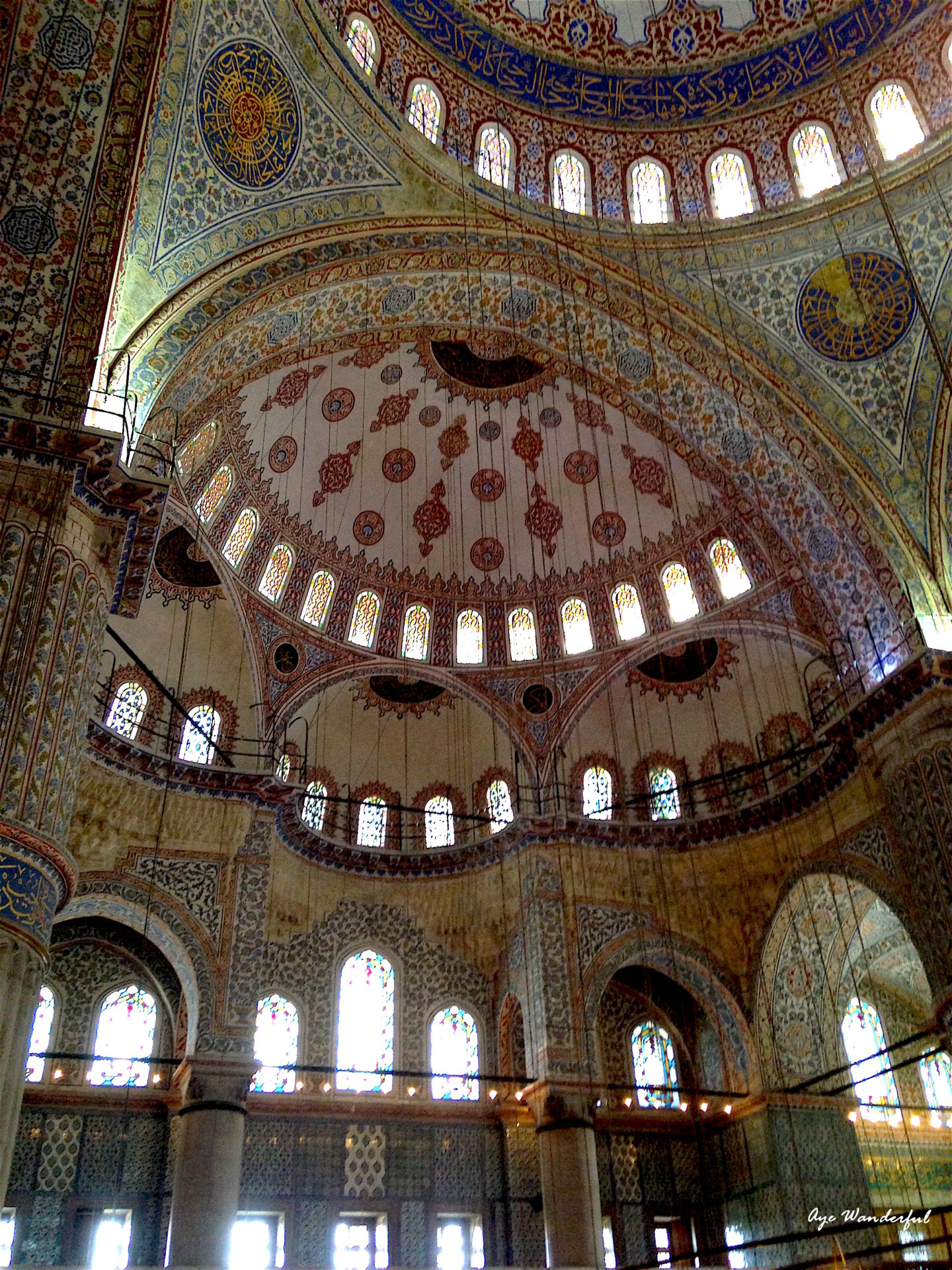 Istanbul, the most visited city in Turkey, is unlike any other I have been to. It's a city of contrasts.
There is modern and there is traditional. The culture and architecture is heavily influenced by the Orthodox Christian Byzantine Empire as well as the Muslim Ottomans. To top it all, there is even a  geographical difference. Part of it lies in Europe and part of it in Asia 😀 One must visit Istanbul to experience these contrasts.
Top 10 sights in Istanbul
1. Blue Mosque
The Blue Mosque in the Sultan Ahmet district is one of the most famous landmarks in the city, and probably also the most photographed. The grand imposing building, with its cascade of domes and tall minarets, gets its name  from the tens of thousands of the traditional blue iznik tiles adorning the interiors. You do need to time your visit well, because it's a working mosque. Here are the prayer times. Expect long queues but don't worry, they move fast.
Address – At Meydanı No:7, 34122 Fatih/İstanbul, Turkey
2. Hagia Sophia (Ayasofya)
Once a church during the Byzantine era, then a mosque during the Ottoman era and finally a museum now, you can't help being awe-struck when you enter the Hagia Sophia, an architectural beauty. Seeped with history, this grand monument is the second most visited museum in Turkey.
Address – Sultanahmet Mh., Ayasofya Meydanı, Fatih/İstanbul, Turkey
3.Topkapi Palace
The Topkapi Palace was the royal residence for the Ottomans for nearly 400 years. The palace is huge and it's sprawling premises cover four courtyards and gardens and also a harem which needs a separate ticket to visit. And visit you must, even if only for the hand-painted tilework. Need more reasons to visit the palace? There are panoramic views of the Bosphorus.
Address -Fatih/İstanbul, Turkey
4. Basilica Cistern
Also, known as the Sunken Palace, the Basilica Cistern is the largest of the all the cisterns in Instanbul. This ancient subterranean water storage system was built during the Byzantine era. Descend down to the dark and cold cistern level to see the vaulted ceilings and round arches, held by several marble columns. You will also see fish swimming in the waters. Do not forget to see the visage of Medusa, the monster from Greek mythology who had venomous snakes for hair.
Address – Alemdar Mh., Yerebatan Cd. 1/3, 34410 Fatih/İstanbul, Turkey
5. Grand Bazaar
Grand Bazaar of Istanbul is one of the oldest and the largest covered markets in the world. With over 60 streets and 4000 shops, this bustling market is a treat for all your senses. Don't get overwhelmed, don't forget to haggle and don't miss out the opportunity to shop in what can only be described as the grandfather of modern shopping malls.
Address – Beyazıt Mh., İstanbul, Turkey
6. Hamam
While public bathing may not be for everyone, a Turkish bath is a historical tradition and some of you may want to experience it. A hamam is generally a three-step process of steam, scrub and a massage. I have myself not been to one but Here's a step by step guide to the Hamams in Istanbul.
7. Galata Tower
Galata Tower is where you can get the best views of Istanbul – the old city, the mosques and the Bosphorus. No wonder it's so popular and gets really busy on the top. The best time to be there is sunset for a magical 360-degree view of Istanbul coming to light.
Address – Bereketzade, Galata Kulesi, Beyoğlu/İstanbul, Turkey
8. Spice Bazaar
Mounds of brightly coloured spices, traditional sweets like Turkish Delight, dried fruits and nuts, flavoured teas – Spice Market has it all. Head here to buy your edible souvenirs or to make additions to your own pantry back home.
Address – Fatih/İstanbul, Turkey
9. Bosphorus Tour
Make it a day excursion by taking the full circle or an evening out by taking the short circle, the Bosphorus tour is, an often overlooked, but a delightful way to see Istanbul and its bridges and its historical monuments. There are various companies, both public and private, offering different styles of tour options.
10.Kadıköy
While there is so much to see in the Sultanahmet area, you have to get to the Asian side as well. And the best way to do that is by taking a commuter ferry from Eminönü to Kadıköy. It's cheap and fast and has a very good frequency. Once on the other side, there is a completely different vibe. Explore the markets and the restaurants in the cobbled lanes of the Meyhane area. My favourite is Ciya Sofrasi. It serves authentic Turkish food and has an old world charm.
So, this was my list of the Top 10 sights in Istanbul, in no particular order. Istanbul is a fascinating place and hope this little guide helps you make the most of your time there.
xx