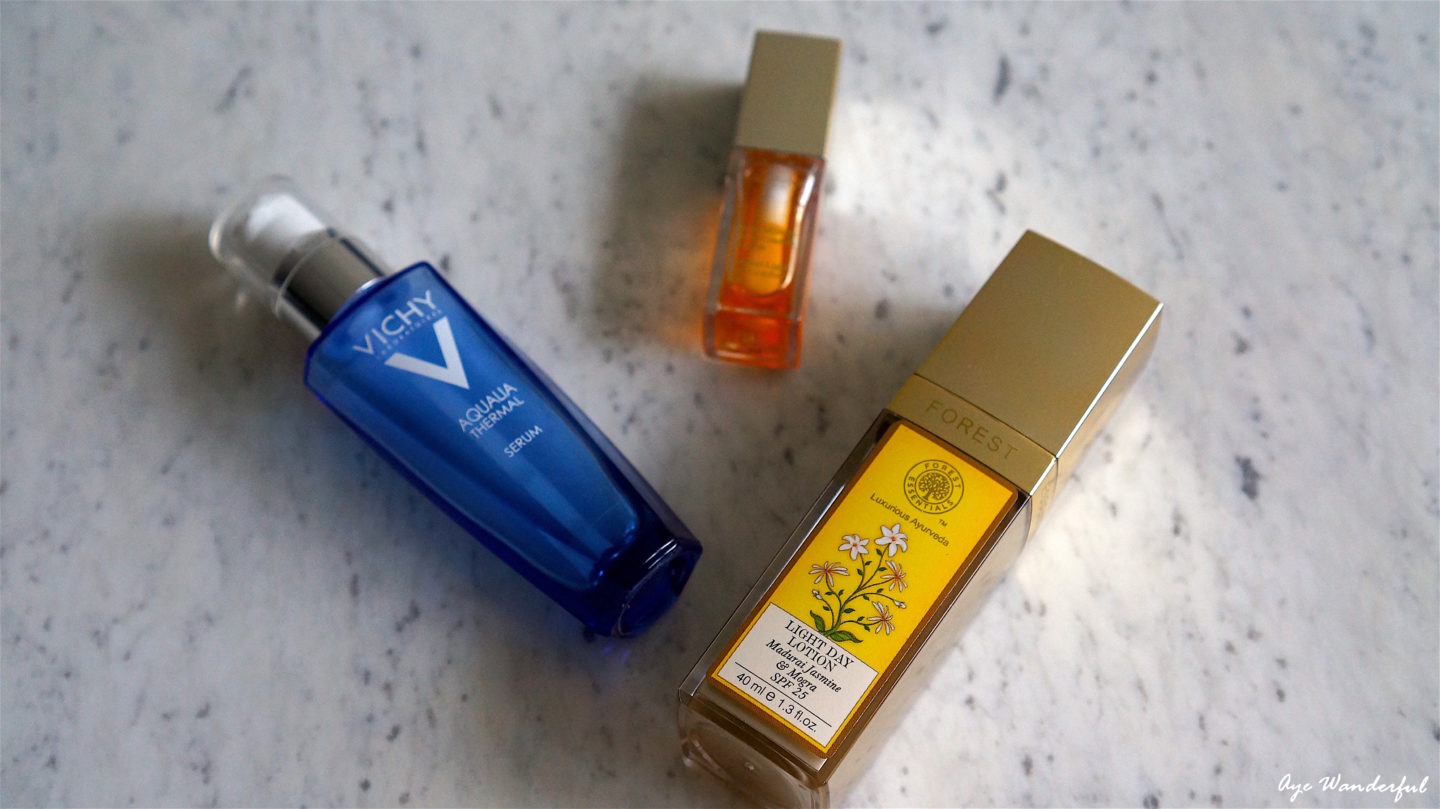 It is a known fact that air plane travel leaves your skin dehydrated and if you have flown a long-distance flight, it is highly likely that you have experienced it.
Dry skin gets drier and oily skin gets oilier. Both, to compensate for the loss of moisture that our skin experiences because of the dry pressurised air in the plane. You begin your journey with a fresh face and end up with parched dull face. Now, we don't want this, do we?
I am no skincare expert but these are some of the products that I use to keep my face hydrated during air travel. And, of course, drinking loads of water helps too 😉
So, let's talk about my in flight skincare routine
Vichy Aqualia Thermal Serum
This serum has a light-weight, non-sticky formula that glides on skin and gives it a boost of hydration instantly. All you need to do is take a little amount on your fingers and press lightly on your face. Your skin will feel immediately the cooling and refreshing effect. I also apply it around my eyes as a substitute for eye cream. You can buy it from Feel Unique or Boots or Escentual.
Forest Essentials Light Day Lotion
My favourite day time moisturiser, this one's indispensable to me. It has a thin and light consistency and feels luxurious on my skin. I find it extremely hydrating without being greasy at all. I use the one in the Madurai Jasmine and Mogra fragrance. Now here's the deal. This may not be everyone's cup of tea because it's quite heavy in the scent department. But I cannot live without it. I stock up on these every time I am in India 😀 Forest Essentials do ship internationally though. Here's where you can it buy it from.
Clarins 'Instant Light' Lip Comfort Oil
True to its brand, this lip oil from Clarins is enriched with plant extracts that are basically angels in disguise for your dry chapped lips. It's not overly sticky provided you apply a very tiny amount in a thin layer, but trust me, that is enough and it will last long. It has a sheer and lightest possible tint but mostly gives a glossy look. You can buy it from Feel Unique or Boots or Escentual.
The combination of these three products makes my skin look fresh, supple and dewy. Who wouldn't love that?
Share your in flight skincare routine in the comments section below. I would love to hear it 🙂
xx