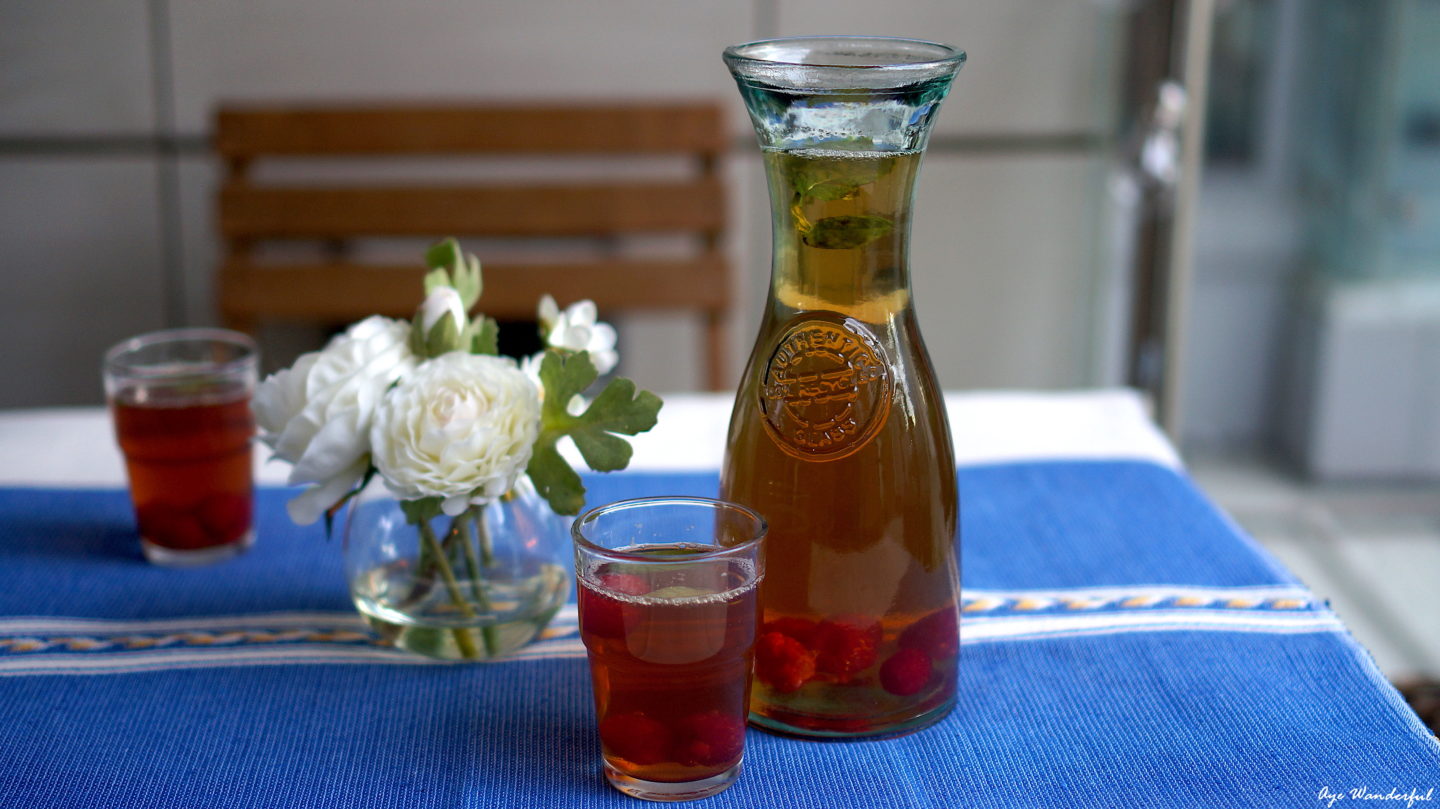 With longer and warmer days here in the UK, we all want to make the most of the British summer. It's time to bring the three S's out – summer dresses, sandals and sunglasses! Weekend plans now include going to the beach or having a picnic in the park or hitting that new rooftop bar. However, on weekdays, all I look forward to is having al fresco dinners and drinks in the balcony after a hectic day back from work. This meant I needed to make my balcony summer ready!
When Mr AW and I bought our flat last year, we had to compromise on the outdoor space and make do with a small balcony. Nevertheless, I wanted to make it a cosy outdoor space and make the most of the area. At the same time, I did not want to spend a fortune on it because, let's face it, we won't be using the balcony much for most part of the year in UK.
I have found a few simple ideas to make my balcony summer ready without breaking the bank. I have talked a bit about it earlier in my Five Good Things from May post. In this post, I will share more details on how I made my balcony summer ready and also give alternatives as applicable.
Cover the floor
Our balcony has a concrete floor which is not the best look. So, we decided to lay out some faux grass turf from B&Q. I was surprised to know the number of options available with the cost varying based on quality of course. We went for a mid-range type and got it cut according to our balcony measurements. We laid it out ourselves which was fun, especially with the limited tools that we had (DIY-illiterate that we are 😀 ).​ It immediately lifted the look of the balcony with the green adding a sense of tranquility. It's very soft under the feet and does not need maintenance, making me very happy with the end result.
If you want a more affordable option, you can also consider covering up the floor with a rug. It will definitely be a quicker way to dress up the balcony and can also add some colour and pattern to the decor. Make sure it's easy to clean and suitable for outdoor spaces. A few I like include this sunny yellow rug from Amazon, this red patterned tasseled rug from TK Maxx and this flatwoven rug from Ikea.
---
Furniture
Balcony furniture is something that we did not have to buy because we got it with the flat. It's generally a good idea to choose foldable table and chairs when you have a small balcony. Use cushion seats for comfort and play with the colour and patterns. My current favourite picks are this functional table and chair set from Ikea, this bistro-style Rattan chair + side table set from Next and these super cool and quirky citrus green chairs duo from Made.
---
Plants and Plant Stand
A green space needs plants. I have kept a mix of fake and real plants because I am not the most green-fingered person out there 😉 . Ikea does amazing fake plants, they look so real that most of our guests cannot make out the difference until they touch them. Succulents are quite hassle-free too, all you need to do is put them in some pretty pots like these or these. I decided to grow some herbs (coriander, parsley) and vegetables (tomatoes, spinach). I have also kept a marigold plant because the flowers remind me of India 🙂
The best solution to tackle the lack of space yet keep so many plants is to use a multi-tiered plant stand. I bought the MALAYAS Wooden Plant Stand from Amazon which fits the bill perfectly and is also affordable.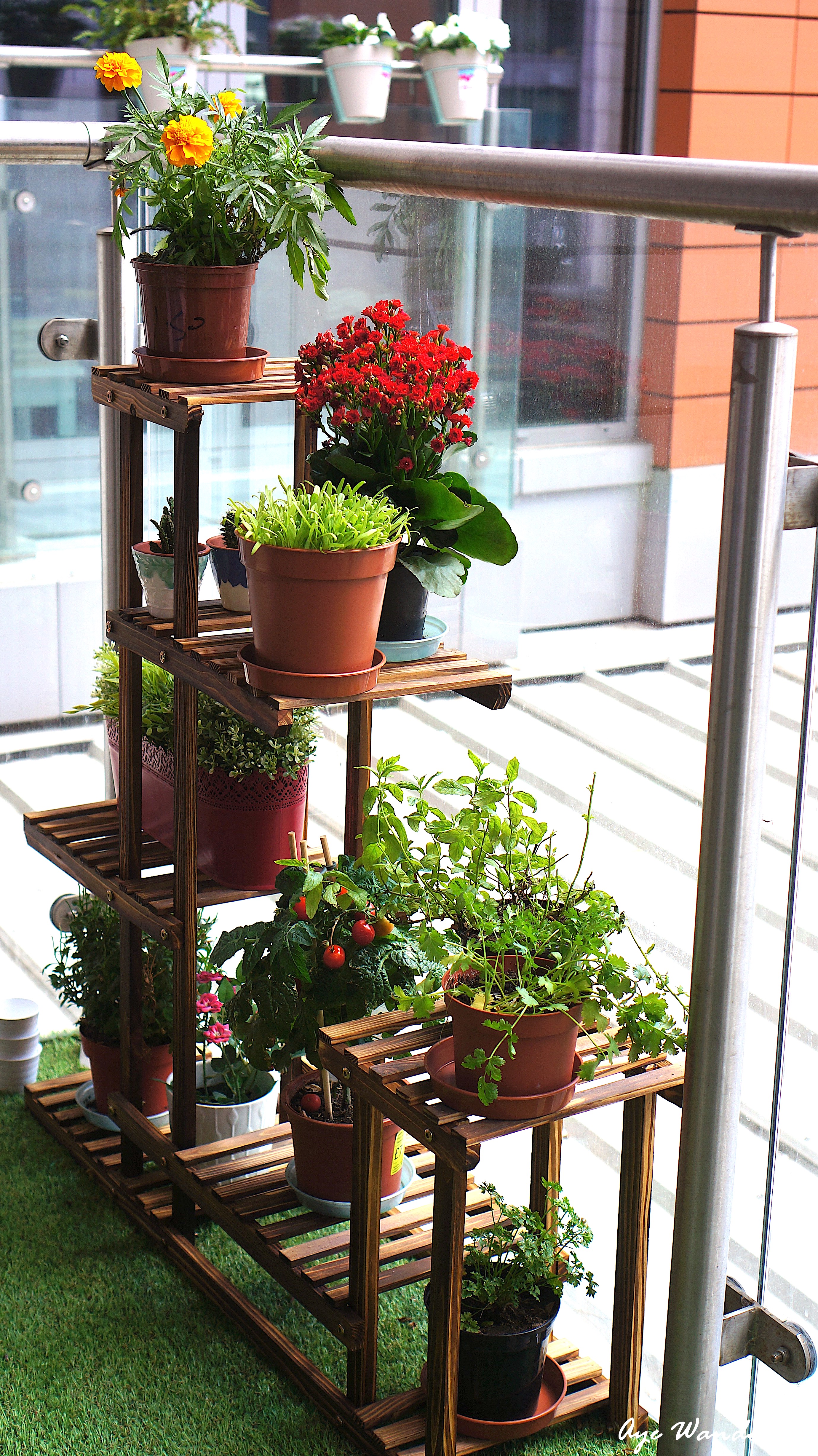 ---
Lights
For the final touch, add some fairy lights and candle holders. Not only will they add warmth and cosiness but also allow you to spend more time in the balcony even after it gets dark. Inspired by the backyard of a dreamy Airbnb that I stayed in Merida, I wanted bulb string lights and I found these in John Lewis. They are solar powered so do not need any power point which is very convenient. Also they are quite long which makes it easy to drape or create shapes.
Candle holders as well as candles of different height and sizes help create a beautiful ambience. Another pretty option is to put some fairy lights inside a tall candle holder.
---
By following the above tips for getting my balcony summer ready, I have been able to transform my small balcony to a tranquil green area, an oasis of relaxation perfect for conversations over a cup of coffee or al-fresco meals.
If you are looking for more inspiration in terms of colour palette as well as design, Pinterest is a fantastic tool. You can also organise your shopping list in it by using my Pinterest tips for Style as an example.
I hope you found this post useful. Let me know in the comments below if you'd like to add more ideas. I'd love to hear from you 🙂
Pin it for later!
Cheers to Summer!
Ameeta xx
Disclaimer – This post may contain affiliate links. If you click on one of these links and make a purchase, I may earn a small commission from the website, at no additional cost to you.