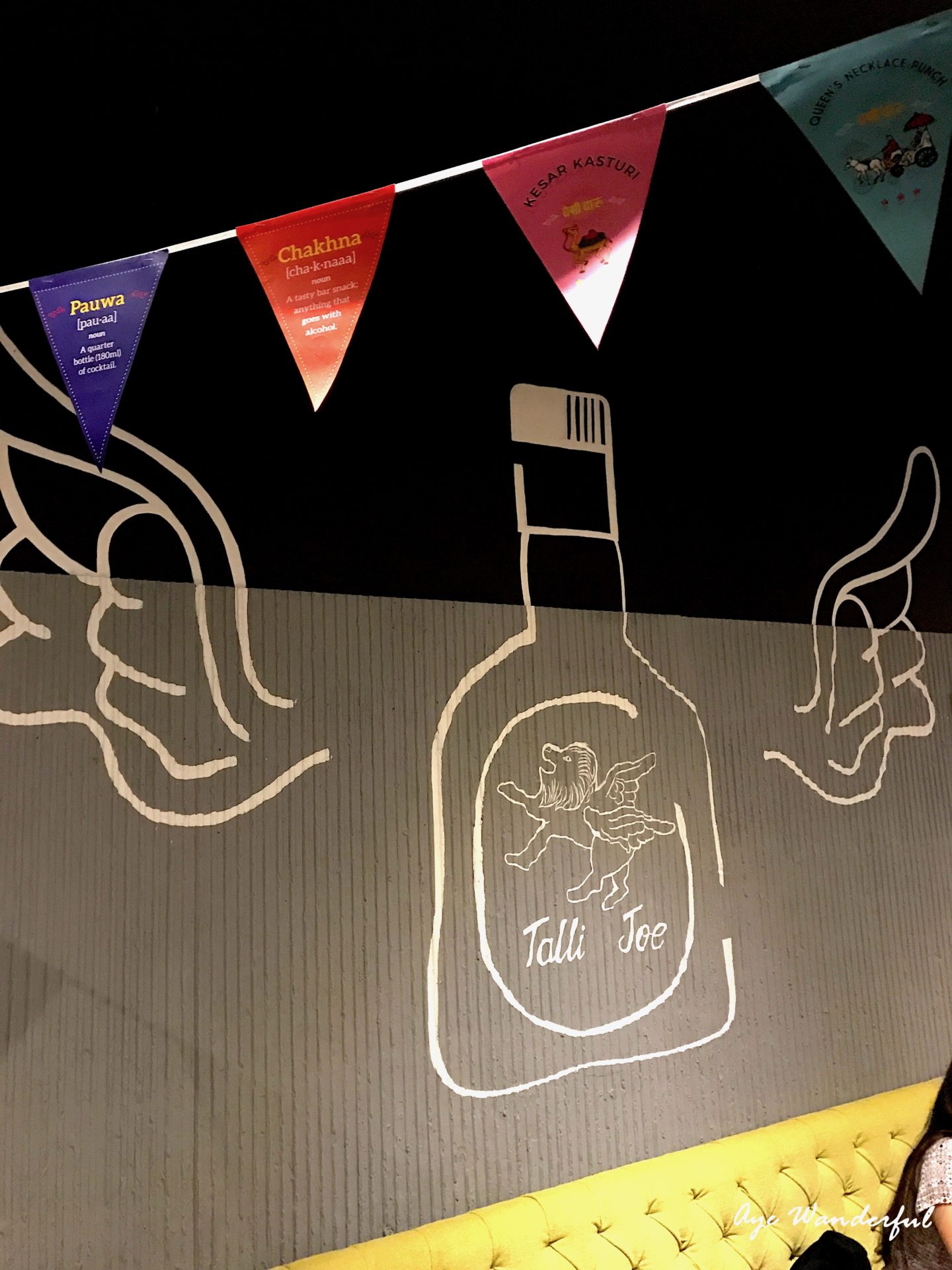 I had never been a big fan of Indian food scene in London until Dishoom changed my mind. And then arrived Talli Joe! A fairly-new kid on the block, Talli Joe is a Tapas-style Indian restaurant serving half-plates and full drinks!
"Talli" literally means "happily tipsy" in Hindi and you will find this and a few other translations dotted around on the walls. Needless to say, all the words being explained are quintessential jargon used in the Indian drinking scene. The decor and ambience is quite trendy and upbeat. The dark grey coloured walls offer a stark backdrop to pops and bursts of colours in the form of graffiti, vibrant photographs and buntings. It feels like a welcoming place for loud buzzing happy conversations with friends.
The drinks menu is regionally influenced, divided by East, West, South and North India. Similarly, the food menu brings flavours from various regions too, and it seems like Talli Joe has taken special care to bring out the recipes that are not commonly (in fact, are rarely) seen in your usual curry-house. The food is delicious and I have tried almost everything vegetarian on the menu. That's the advantage of going to a Tapas-style restaurant in a big group 😉 By the way, the meat-lover in you need not worry. My friends who sampled the meat dishes were quite happy too. The flavours are intricate and delicate, the spices are well-balanced to satisfy your tastebuds. However, I must say that I found Talli Joe a bit expensive for the portion size.
Considering its location, food and ambience, I think Talli Joe is definitely worth trying out once. Even if to just sample what real good Indian food tastes like and how varied it can be. Oh, while you are there, please do try the Black Gajar Halwa for dessert. Talli Joe has taken the traditional Indian sweet of Gajar(carrot) halwa to another level by using black heritage carrots topped with salted peanut brittle. Yumm!
Details
Address: 152-154 Shaftesbury Avenue, London, WC2H 8HL
Click here for the website.
Cheers, Ameeta xx