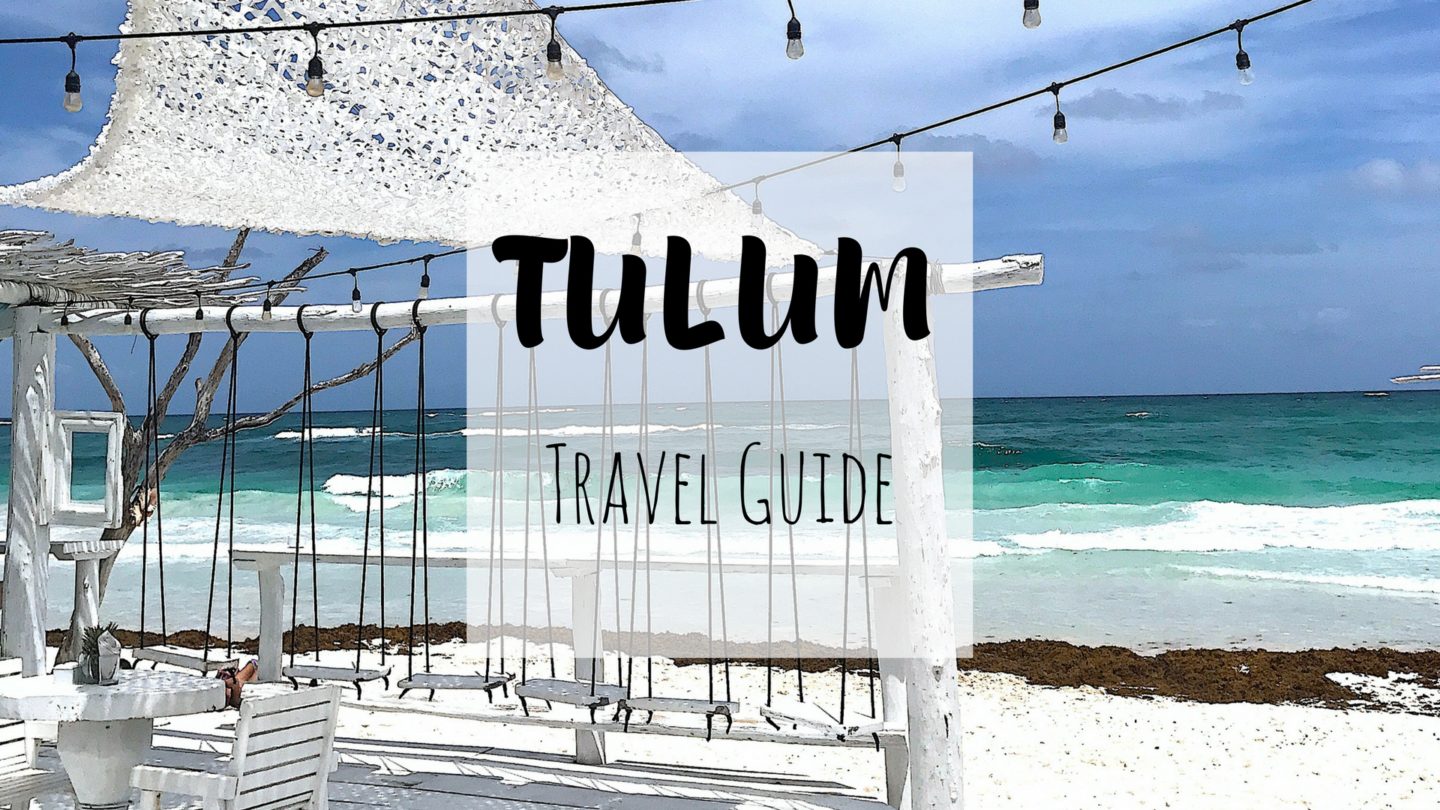 Heading to the pristine beaches and the balmy breezes of Tulum? My Tulum travel guide covers the best things to see and do, where to eat, what to pack and where to stay in Tulum, Mexico.
Staying away from the all-inclusive package tourism of Cancun, Tulum was our choice for spending the last 4 days of our Mexico getaway. Boasting one of the best beaches of Mexico, Tulum has a cool, casual and laid-back vibe which was exactly what we were looking for. Early morning sunrises (being jet-lagged helped 😉 ) were followed by lazy days spent either reading in our palapa-covered cabanas, or lounging by the sea, interspersed with eating, drinking, and little bit of sightseeing.
Tulum Travel Guide
Getting There
To get to Tulum from Merida, we took an ADO bus from the CAME terminal (338 Pesos) and it took us 4 hours to get there. The bus was air-conditioned and the journey, although long, was very comfortable.
Tip: It gets really cold on the bus and having a scarf helps.
If you are coming from Cancun airport, there will be a transportation section where you can get information about the ADO buses. There is no direct bus between Cancun and Tulum. You will have to take a bus to Playa del Carmen(1 hour), followed by another bus to Tulum centre(50 minutes). This should cost you around 228 Pesos. Other options include car rentals and super shuttles.
While returning to Cancun airport, it was raining and we found taking a private taxi the most convenient option. We simply hailed a taxi in front of our hotel, bargained a little with the driver and he agreed to take us to the airport for 70 USD. The journey was around 1.5 hours.
Travelling within Tulum
Tulum is essentially divided into two parts, the centre (or downtown) and the beach area. Renting a bike is easy and affordable and can be used to get to the beach. There is a bike lane between Tulum centre and the beach road. However, once you reach the beach road, be very careful as there is neither a bike lane nor a footpath. Taxis cost between 80 to 150 Pesos, between the centre and the beach road, depending on how further south you are going. It is best to confirm the price before getting into the taxi.
Colectivo, or the shared white vans is also another affordable way of getting around to make day trips from Tulum, e.g. to Playa del Carmen or Akumal. As long as you are in the right direction, flag them down and tell them your destination. You can find colectivos in front of Tulum's ADO terminal.
Where to Stay
Hotel Ginger is a cheap and cheerful hotel in the centre. Each room in this boutique hotel is beautifully decorated, with colourful tropical vibe. The location is excellent and you are not far from the restaurants, bars, shops and public transport.
Useful links: Trip Advisor,  Hotels.com,  Booking.com
Hotel Calaluna is a budget-friendly, no-frills cabana-style hotel with the beach literally at your doorstep. This is where we stayed and can definitely recommend if you are looking for an affordable but nice hotel by the beach.
Useful links: Trip Advisor,  Hotels.com,  Booking.com
Don't mind the splurge? Try Azulik, an adult-only eco-friendly resort by the sea, which will fulfil  all your dreams of staying in a luxurious treehouse complete with romantic candle-lit ambience.
Useful links: Trip Advisor,  Hotels.com,  Booking.com
Things to Do
Visit the Mayan Ruins
Tulum Ruins
Tulum used to be a trading hub in the Mayan times. The location of the Tulum ruins cannot get more dramatic than this, sitting on the edge of sheer limestone cliffs framed by the Caribbean Sea. After exploring the ruins and enjoying the spectacular view of the sea, you can head down the pathway that leads down to the beach. Tulum ruins are a very popular tourist destination and it is best to visit them early in the morning. They are open from 8 am to 5 pm, and the entry fee is 64 Pesos.
Coba Ruins
Coba ruins are 30 minutes away and can be reached by ADO buses or Colectivo vans. It has the highest pyramid in Yucatán peninsula and it is possible to climb it! The setting is beautiful, in lush jungles and is a completely different experience as compared to Tulum ruins.
Chichen Itza
Chichen Itza is probably the most famous ruins in the Yucatán peninsula, considering they are one of the Seven Wonders of the Modern World. Located 2.5 to 3 hours away, it's possible to reach there using the ADO buses and would mean a proper day trip. Also, they are much more crowded and the entrance fee is higher at 232 Pesos.
Cenotes
Cenotes('say-no-tays') are natural swimming holes of groundwater, formed when limestone caves collapse. Imagine a network of subterranean water pools, some exposed to the surface! Mexico is known for them, and there are quite a few near Tulum too. Snorkel in Grand Cenote, dive in Aktun-Ha or zip-line in Zacil-Ha – take your pick!
Grand Cenote is the one nearest to Tulum and that's the one we went to. It is filled with small fish, turtles, and caverns with stalactites and stalagmites formations. Crystal clear blue waters with daylight filtering through it is a mesmerising sight, while roots and vines hanging overhead give it a magical vibe. Grand Cenote is open from 8:10 am to 4:45 pm and the entry fee is 180 Pesos. Even if you don't bring your own snorkelling gear, it is possible to rent one for 80 Pesos.
Sian Ka'an Biosphere Reserve
The Biosphere Reserve of Sian Ka'an is a World Heritage Site, an area of exceptional biodiversity and natural beauty consisting of tropical forests, extensive mangroves, crystal clear blue lagoons, and thousands of species of flora and fauna. Although not too far from Tulum, it is more convenient(albeit expensive) to take a  guided tour to Sian Ka'an instead of doing it on your own.
Other Activities
Take a Yoga class at Maya Tulum. Enjoy a full moon party at Papaya Playa Project. Swim with sea turtles in Akumal Bay. Sip margaritas on Swing bar stools in Coco Tulum.
Where to Eat
El Tacoqueto
You can't go wrong with local food joints like El Tacoqueto in Tulum downtown, where you see more locals than tourists and the friendly staff only speak Spanish. When we walked in, they took us straight to see the food laid out in big containers. We chose a chile relleno and chicken mole. It's simple, home cooked, delicious food served in an unassuming authentic setting. It doesn't hurt that it's very easy on the pockets too!
Antojitos La Chiapenaca
Antojitos La Chiapenaca, across the street is also a similarly fantastic option for cheap but delicious food. They are open 5 pm onwards until late in night.
Mateos
Mateos is probably one of the busiest place to eat and drink on the Tulum beach road. It's mostly down to its fabulous drinks and the overall ambience. However, I found that the menu is catered more towards tourists with burritos, fajitas and burgers on it. There is a rooftop bar where you can enjoy your drink while watching the sunset.
Restaurare
While I am a vegetarian and Mr. AW can only be described as a meat-lover, we still decided to try the vegan restaurant Restaurare. I can definitely say that this was some of the best food that I ate in Tulum, and the only restaurant we visited twice in Mexico. Their must-try mole, made with mushrooms, pumpkin and Mexican cacao, is a deeply satisfying complex mix of rich flavours and textures. Located on the jungle side of the beach road, Restaurare's ambience is wild and enchanting, particularly so at night when it is aglow with dim candle light.
Two undeniably popular places to eat and drink in Tulum are Gitano and Hartwood. Known for their gourmet food and exquisite ambience, they are certainly on the pricier side and a bit notorious for the time spent waiting for a table.
Tip: Even if you are staying near the beach, it is cheaper to take a taxi to and back and eat in downtown, than to eat in a restaurant near the beach.
What to Pack
Tulum is very casual. So, carrying a few basic tees along with shorts is enough. You may want to pack a pretty sundress too, because beachy holiday vibes you see 😉 For footwear, flip-flops and espadrilles would be perfect.
Add to this mix, all the beach holiday essentials like swimwear and a cover-up, a hat, a pair of sunglasses, biodegradable sunscreen, and an after sun lotion.
Two must-have items that we used a LOT were a bug-repellent spray to avoid those nasty mosquito bites (we were in a jungle after all) and a torchlight while walking back after dinner from the restaurants on the beach road (because there were no street lights).
Tip: A lot of places in Tulum are cash only, and it is best advised to use Mexican Pesos.
I hope you find my Tulum travel guide helpful in planning an unforgettable holiday to the white sand beaches, the turquoise Caribbean waters and the lush jungles of Tulum. If you have any questions about planning a trip to Tulum, feel free to get in touch with me 🙂 For more posts on Mexico, click HERE!
Pin It for Later!
Have you been to Tulum and have anything to add to this guide? Share your thoughts in comments below 🙂
Cheers,
Ameeta xx
Disclaimer – This post contains affiliate links. If you click on one of these links and make a purchase, I may earn a small commission from the website, at no additional cost to you.
Cheers, Ameeta xx