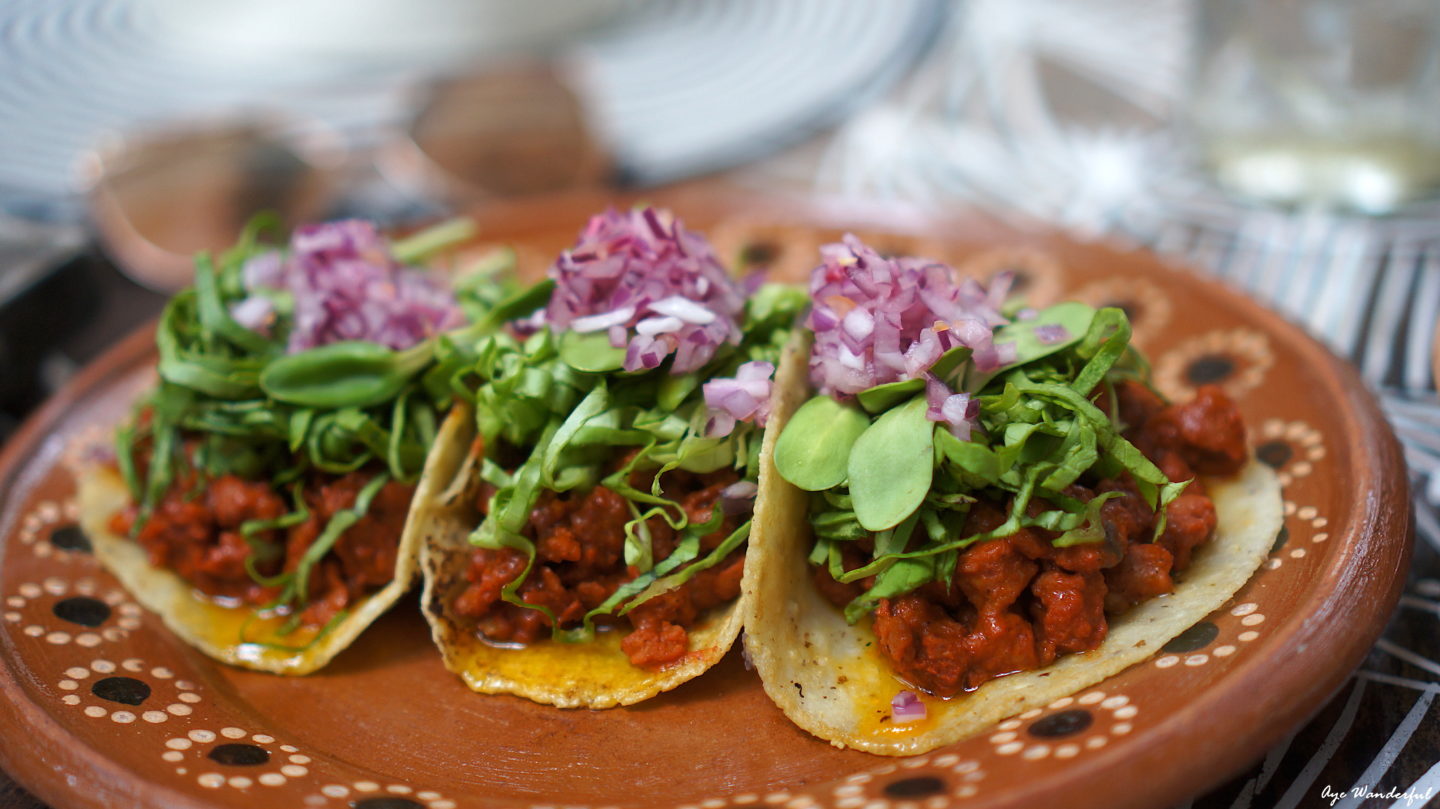 When I was planning my holiday, I thought it would be very easy to find vegetarian food in Mexico. After all, you can get a vegetarian version of burritos, fajitas, quesadillas and tacos pretty much in any Mexican restaurant in London. Imagine my surprise when I found myself in Merida in the Yucatán state, struggling with ordering some vegetarian food for myself.
In the first restaurant I went to (well, it was a kiosk in a food market), the only vegetarian dish I was able to get was an empanada for breakfast. And ordering that empanada was no mean task either. Turns out if you are in Merida (or any non-touristy place in Mexico), you must speak basic Spanish. And before you roll your eyes, let me tell you I did learn a few basic words and phrases. So, I knew that "I am vegetarian" in Spanish is "soy vegetariana". However, no matter how many times I said it, they wouldn't understand me. After a few minutes, I was somehow able to order a cheese empanada.
So, why didn't my translation work? Well, what I didn't learn was how to pronounce it! I know, go ahead and roll your eyes now 😀 A few hours later, I ended up talking to a Mexican guy while waiting at the bus stop and he taught me the correct way of saying it – "soy behetariana". Once I learnt the correct way, there was no looking back.
Mexican food is delicious and exciting, full of colours and flavours. Here's a list of some mouth-watering dishes that I tried in the Yucatán, and would highly recommend that you must try them when you visit Mexico.
Must-Try Vegetarian Food in Mexico
---
Empanadas de Queso
Empanada is a stuffed, fried (or baked) pastry originally from Spain. Empanadas de Queso are basically empanadas filled with cheese and garnished with some chopped onions and hot sauces.
---
Tacos
Taco is a traditional Mexican dish which consists of soft, round tortillas served with vegetables or meat toppings, along with a tomato and onion salsa.
---
Salbute
Salbutes, a Yucatán speciality, are deep-fried, puffed tortillas, topped with cabbage, onion, and tomato.
---
Panucho
Panuchos, another Yucatán speciality, are essentially similar to salbutes except that they are stuffed with refried beans and are topped with tomato, pickled red onion, avocado, and pickled jalapeño pepper.
---
Torta
Torta is a sandwich made with an oblong white and crusty sandwich roll. The filling can be boiled eggs, cabbage, onions, tomatoes and chillies. I forgot to click a picture 😀
---
Chilaquiles
Generally eaten for breakfast, the base of Chilaquiles is corn tortillas that have been cut into quarters and lightly fried. The crispy tortilla chips are served with a green or a red salsa and garnished with cheese, cream, onions and fried eggs.
---
Huevo Rancheros
A popular breakfast dish, Huevo Rancheros are fried eggs served on lightly fried corn tortillas topped with a tomato-chili sauce and refried beans on the side.
---
Chile Relleno Queso
Chile Relleno Queso consists of a fresh poblano pepper stuffed with shredded manchego cheese, coated in egg batter and deep fried. It is served with Mexican rice and refried beans on the side.
---
Papadzules
Papadzules are a classic Mayan dish from the Yucatán. Soft, warm tortillas are filled with hard boiled eggs, served on a bed of pumpkin seed sauce topped with a tomato sauce.
---
Mole Poblano
Mole Poblano is a dark, rich and complex sauce made with peppers, spices, nuts and most importantly chocolate. I ate mushrooms in Mole Poblano sauce in Tulum and it was stuff made of dreams. You can read more about it here.
---
Pibil
Pibil is a cooking technique in which meat is marinated in bitter-sour orange juice and achiote sauce (which gives it the burnt-orange colour), wrapped in banana leaves and baked underground. Traditionally made with pork (Cochinita Pibil), I got a chance to eat the mushroom version on tacos.
---
Sweet Treats
No trip to Mexico is complete without trying Churros, the fried dough pastry coated with cinnamon sugar and Agua de Jamaica, a tart and refreshing juice made from the hibiscus flower. And of course, fresh colourful fruits from the market with some lime juice and chilli for the zing!
Having lived in the US and the UK, the food that I ate in Mexico was completely against my idea of Mexican food. The burritos, fajitas and nachos were not on any menus. Tacos were everywhere, I admit. However, they were soft, light-coloured, little rounds of corn tortillas that were nothing like the hard-shelled ones I had seen earlier.
I ate local, authentic delicacies that I had never heard of before, and that's why I think travel is so important. It breaks myths, draws you out of your comfort zone and opens your eyes and minds to new worlds and cultures.
Do you like Mexican food? Which of these dishes do you find the most tempting? I'd love to know!
Cheers,
Ameeta xx
SaveSave